Recycle | Hormonal Harmony
On the market for almost a decade, Recycle naturally supports optimal male hormone balance through helping establish a more favorable environment for your body to function within. An environment that that is favorable to increasing lean muscle and recovery while reducing body fat.  
Propels optimal hormone production, function & balance

Lowers cortisol levels, protects against muscle breakdown and aids in recovery
By simultaneously bolstering natural production of Lutenizing Hormone, inhibiting estrogen by aiding in aromatase enzyme reduction, facilitating the blunting of SHBG (sex hormone binding globulin) to ensure maximal free testosterone levels, aiding in hindering DHT by preventing binding to the androgen receptor,facilitating lower cortisol levels, and fully rejuvenating the HPTA (Hypothalamus-Pituitary-Testicular Axis), Recycle® supports multiple endocrinological systems to provide complete hormonal homeostasis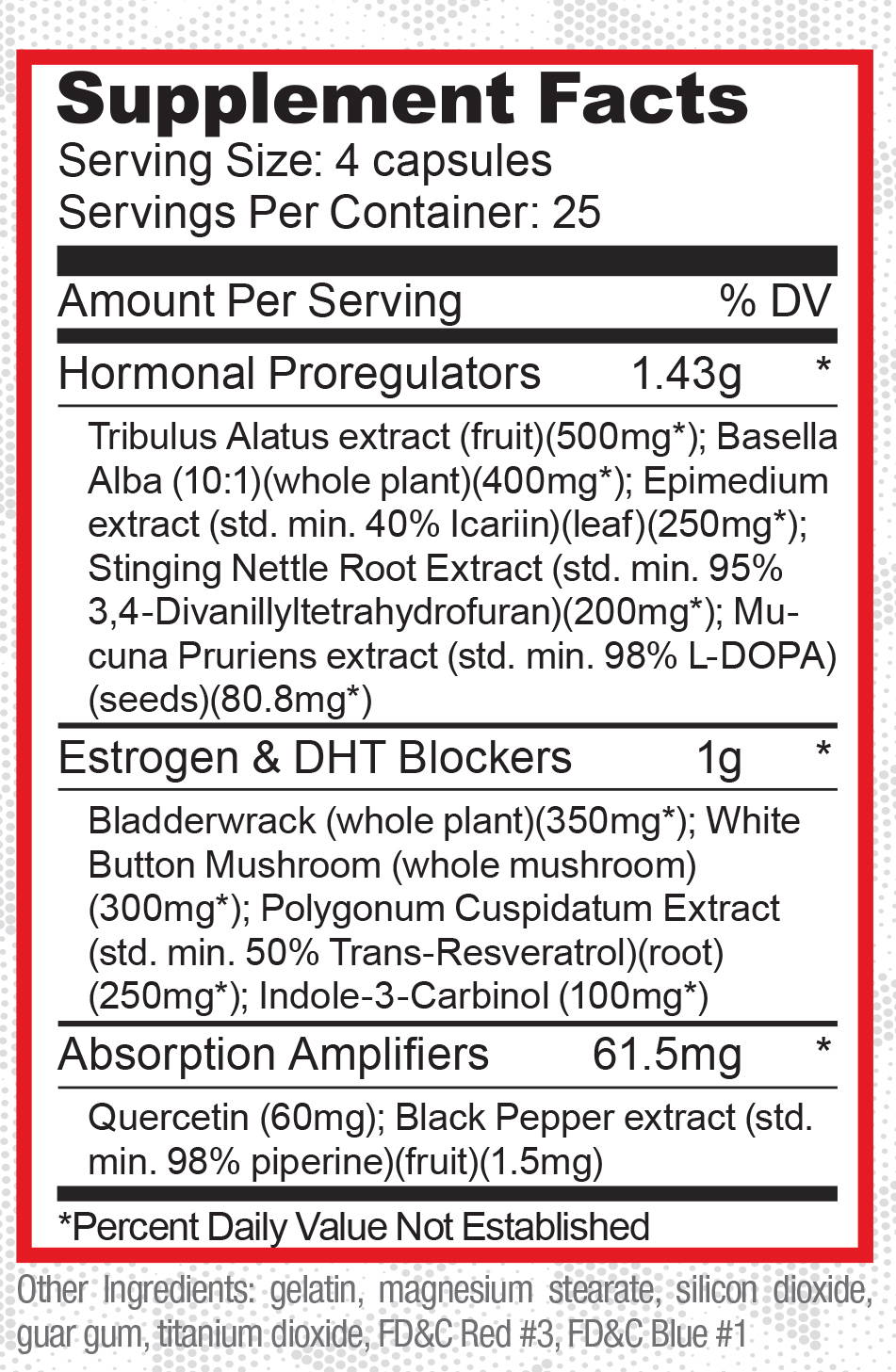 Hormonal Proregulators
This herbal ingredient cocktail has been shown in studies to increase testosteron, Dopamine, Adrenaline, Noradrenaline and Growth Hormone. This matrix can improve circulating levels of testosterone and the condition of reproductive organs and has also been shown to be an estrogen blocker, a vasodilator and an effective inhibitor of PDE-5.
Estrogen & DHT Blockers
This blend aids in the prevention the binding of estradiol and progesterone to their receptor sites thus lowering endogenous levels of both. This combination has been shown to inhibit the 5-alpha- reductase enzyme from binding to testosterone and converting it to DHT. It, too, contains proven testosterone boosting, anti-aromatization, and vasodilation properties and has been known to steer estrogen metabolism in favor of "good" estrogen and away from "bad" estrogen. Resveratrol specifically has been shown in lab studies to aid in increased blood testosterone levels and maintain healthy testicular sperm count.
Absorption Amplifiers
Support increased bioavailability either by promoting rapid absorption from the gastrointestinal tract, by protecting the drug from being metabolized/oxidized in its first passage through the liver after being absorbed, or by a combination of these two mechanisms.

How To Use:
Take 1 serving (4 capsules) daily.
---
30 Day Money Back Guarantee: If you are not completely satisfied, Purus Labs is happy to issue a refund or exchange for your product within 30 days of purchase. We may require you to send the product back in return for your refund.


Q: When should I take Recycle?
A: Anytime during the day. It's most important that you get in the full serving (4 capsules).
Q: Do I need to cycle off Recycle
A: Recycle helps to build and balance your own free testosterone naturally, so you can take it for as long as you wish. No cycling needed!
A: No. The gelatin capsules are animal based.
Q: What flavors of Recycle are available?
A: Recycle comes in unflavored capsules.