The Foundation Series' is a line of cornerstone products designed to work synergistically with our Performance line of products and enhance their effects. They are research-backed, stackable and economical.
Citrulline is an Amino Acid. Citrulline is shown to increase arginine in the blood leading to greater NO which means increased blood flow. This allows greater endurance during a workout. Malate gives citrulline stability, but it is also known to have anti-fatigue properties. Thus, Citrulline Malate goes a long way to increase vascularity and longevity, and by default, aids in recovery as well.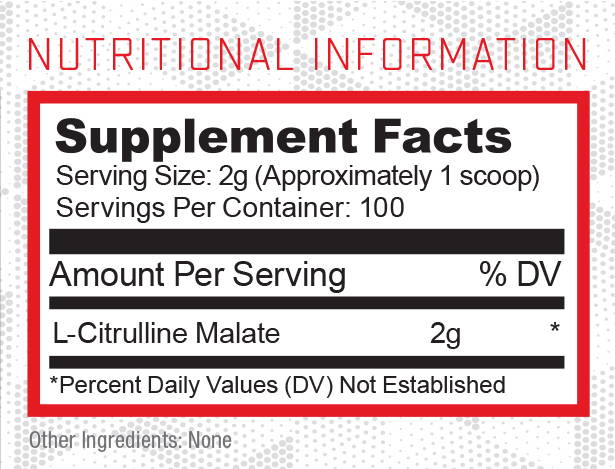 L-Citrulline Malate
Known to be even more effective than arginine, L-Citrulline Malate is a simple-yet-powerful ingredient that can be added to any pre or post workout to enhance energy, endurance and recovery.
Mix one serving of Citrulline Malate in 8-12 oz of your favorite beverage, pre-workout or post-workout. For optimal results, consume Citrulline Malate daily before exercise and combine with Condense®, StimPact® and/or NOXygen®. Do not exceed 4 servings daily to avoid stomach discomfort.
---
30 Day Money Back Guarantee: If you are not completely satisfied, Purus Labs is happy to issue a refund or exchange for your product within 30 days of purchase. We may require you to send the product back in return for your refund.